Painting of our studio by Katie Green
Accurate Prints on Canvas, Metal, Watercolour Paper and more – Detailed Art Reproduction – Passport Photos – Video Transfer – Image Editing in Barrie, Ontario, Canada 705-727-1139
Photo, Art and Video Specialists
Archival printing on long lasting giclee papers and innovational substrates.
Giclée prints on the finest papers including Ilford and Hahnemuhle.
You can send us images for quoting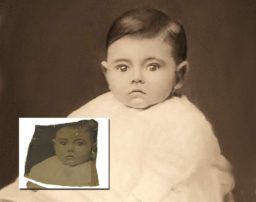 Our
passport photos
(we have a coupon for
$14.99 for a set of 2 photos
) are ready in about 10 minutes and are guaranteed to meet
Canadian standards
. We can produce I.D photos for any country. It's usually better if you bring your application form (for countries other than Canada, U.S., and U.K) but if you can't, no worries. We'll do our best to look up what's needed.
When it comes to image editing, including photo restoration, the best way for us to fix your pictures is for you to bring them in to our studio, but sometimes that's not possible. Instead, the photos can be sent to us by courier, or you can scan the original photo and send it to us via our file uploader. Or email it to us. Photo restoration (or repair) is very detailed work, so if you are scanning your own photos, we'd like you follow these scanning tips. If you have questions, just contact us. We'll answer.
This site has a lot of examples of our work. And, if you have the chance, drop by our studio and see some of the samples in person. It's always nice to hear the stories behind the pictures.